Boxes-Be-Gone Icon Set [32x32] [RPG] [Free]
Boxes-Be-Gone is an icon set intended for RPG Maker MV and features 2,500+ unique icons! An edit from an already incredible icon set, Boxes-Be-Gone is perfect for anyone who loves the variety of RPG Maker's default icons, but hates the amateurish vibe they radiate with their mundane appearance.
For those of you unfamiliar with the original icon set, it was pieced together by Johan86. In essence, it's a crazy expansion of the default icon set, so you'll be upping your game twice as hard if you swap from that plain old set!
It was a pleasure making these, and if you're interested in this set, give it a try. It's free. That's a pretty good price. And always remember, one icon in transparency is worth two in the box ... (unless your boxes are really pretty.)
Credit goes to Lorb, Delapouite, and Viscious Speed over on Game-icons.net for the original creation of the individual icons. Be doubly sure you also credit those guys if you decide to use this set.
Update! To celebrate all the support I've received for Boxes-Be-Gone, I've updated the icon set with multi-colored potions, gemstones, and other useful items. Enjoy!

Q/A
Q: Do I need to credit you for this?

A: Nonsense! Though, you absolutely do need to credit Lorc, Delapouite, and Viscious Speed for the original creation of these icons. (Buuut if you wanted to credit me too, that'd be nice ...)
Q: Can I use this for commercial means?
A: Of course! As long as you properly credit the aforementioned, that is.
Q: Can I download this icon set and combine it with others I have?
A: Certainly, but only on the basis that you credit ... Ah, well you get the point by now.
Q: I don't know how I feel about the level of saturation in those icons, fam.
A: Worry not, since included are two icon packs. The first pack is the one displayed in all the screenshots, while the second has all the same icons but with reduced saturation.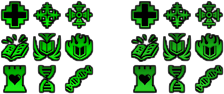 It's a subtle difference for sure, but it definitely has a noticeable effect in-game. I'd personally recommend the regular saturation, though, as the alternate is really for people who want the brightness toned down. Or, you could just download the first one and manipulate the colors yourself in any way you'd like.
Q: Do I have to hate boxes to use this icon set?
A: No, but it helps.
Q: What if I still like the old boxes more?
A: Download this icon set anyway.
Install instructions
*Only if you're using RPG Maker.
After the icon set has finished downloading, find your game's main folder, then click on img, then click on system. There should be a png file in there named "IconSet." Delete that file or move it elsewhere, and rename your newly downloaded Boxes-Be-Gone icon set to "IconSet." Finally, paste it into this folder, and you're good to go.
Download